The number of background checks for gun purchases performed on Black Friday 2016 broke the record for Black Friday background checks as well as the overall single day record.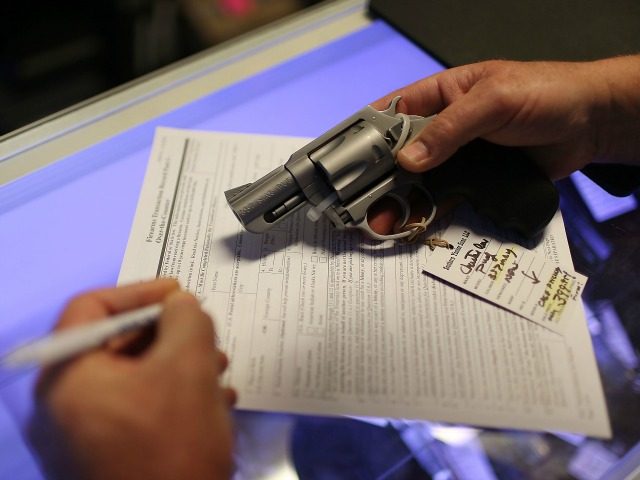 On December 1, 2015, Breitbart News reported that Black Friday 2015 set a Black Friday and overall single day record with 185,345 checks in a 24-hour period. But FBI numbers for November 25, 2016 show that the number of background checks performed on Black Friday 2016 surpassed the 2015 record by a few hundred checks.
According to Business Insider, "the FBI processed 185,713 background checks" on Black Friday 2016.
On November 26, 2016, Breitbart News reported that gun stores were witnessing lines outside their doors that wrapped around the corner. These lines were a welcome sight to store owners who wondered if Hillary Clinton's defeat might negatively impact gun sales. After all, fears of more gun control had driven gun sales to new highs over the past 18 months and Clinton's defeat removed gun control fears for all intents and purposes.
But store owners in many locations reported larger crowds on Black Friday 2016 than they had witnessed on Black Friday 2015. And they learned that discounts had a positive draw on customers (versus the negative draw derived from fear). CNN Money quoted Rick Reyes, "manager of LI Outdoorsman, a gun store in Rockville Centre on Long Island, New York," who said shoppers came in for "discounts of 10% to 50%" rather than "politics."
It is always important to remember that background checks are not a precise indicator of the number of guns sold because background checks are performed on the purchaser rather than the firearm–and a purchaser can buy multiple firearms after passing a background check. Therefore, if everyone who passed a Black Friday background check bought two guns it means 371,426 guns were sold at retail in one day. If they bought three guns it means over half a million guns were sold on that one day alone.
AWR Hawkins is the Second Amendment columnist for Breitbart News and host of "Bullets with AWR Hawkins," a Breitbart News podcast. He is also the political analyst for Armed American Radio. Follow him on Twitter: @AWRHawkins. Reach him directly at awrhawkins@breitbart.com.
Political Power for European Americans!
European peoples should organize and advance our own interests just like every other group. Join our fight for Heritage and Identity!
The American Freedom Party needs your help! Send $10, $20, $50, $100, or any contribution you can via PayPal "Send Money" to treasurer@american3rdposition.com or click here:


The American Freedom Party (AFP) supports the right to keep and bear arms. Emancipate yourself from the dinosaur Democrat and Republican parties. Join a National Party that puts America first, The American Freedom Party!

Support American Freedom Party growth and our heritage of Western civilization! The American Freedom Party is the only party that addresses issues concerning European-American communities and all Americans.

Nationalism! Not Globalism! — America First! Not America Last!
Freedom from Republicans. Freedom from Democrats. American Freedom Party! Political Power for European-Americans!
European-Americans should push back! European-Americans should abandon the Republicans and Democrats. Change your party allegiance to the American Freedom Party. A Nationalist Party that shares the customs and heritage of the European American people. We need a Nationalist Party interested in defending our borders, preserving our language and promoting our culture. The American Freedom Party is not beholden to foreign governments, special interest groups, nor Wall Street. The American Freedom Party is for America First!
---

Category: American Voice, Establishment News