Warner Huston of Breitbart.com reports that "A mob of teenagers went on a rampage through a carnival in Oakland, California on Saturday, jumping over the counters of the carny games, breaking things and stealing teddy bears and other game prizes.
Carnival workers said the teens caused up to $30,000 in damages and loss. The March 11 free-for-all at the Butler Carnival held in East Oakland was captured on cellphone video.
The teens began jumping counters to steal teddy bears and other prizes from the carnival workers. But it wasn't merely theft the teens perpetrated.
Carnival workers said that at least one employee was hit with a brick. Two workers also ended up in the hospital. Many say they are still frightened.
Many of the prizes were found ripped and destroyed after the attack, KRON reported.
After the weekend, Butler Amusements packed up its carnival and left the area ahead of schedule.
The company released a statement to CBS Bay Area KPIX: "This was a very unfortunate event, but in moving forward, we are going to make sure to have better security and police presence at the next event." A picture taken during the rampage appears below: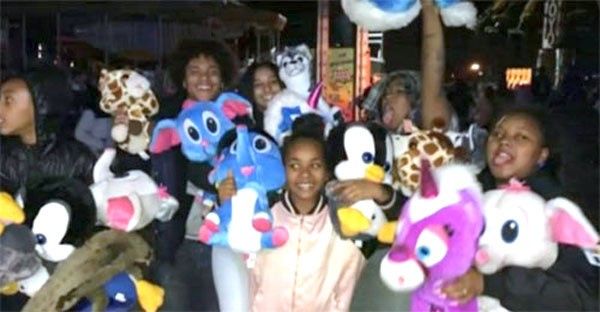 Police say the mob of teens numbered in the hundreds, but thus far no arrests have been made.
Political Power for European Americans!
European peoples should organize and advance our own interests just like every other group. Join our fight for Heritage and Identity!
The American Freedom Party needs your help! Send $10, $20, $50, $100, or any contribution you can via PayPal "Send Money" to treasurer@american3rdposition.com or click here:


The American Freedom Party (AFP) supports the right to keep and bear arms. Emancipate yourself from the dinosaur Democrat and Republican parties. Join a National Party that puts America first, The American Freedom Party!

Support American Freedom Party growth and our heritage of Western civilization! The American Freedom Party is the only party that addresses issues concerning European-American communities and all Americans.

Nationalism! Not Globalism! — America First! Not America Last!
Freedom from Republicans. Freedom from Democrats. American Freedom Party! Political Power for European-Americans!
European-Americans should push back! European-Americans should abandon the Republicans and Democrats. Change your party allegiance to the American Freedom Party. A Nationalist Party that shares the customs and heritage of the European American people. We need a Nationalist Party interested in defending our borders, preserving our language and promoting our culture. The American Freedom Party is not beholden to foreign governments, special interest groups, nor Wall Street. The American Freedom Party is for America First!
---

Category: American Voice, Establishment News