The Jerusalem Post says that Orban also accused World Jewish Congress President Ronald Lauder of having a "left-wing and liberal bias" in Hungarian public affairs.
Hungarian Prime Minister Viktor Orban reportedly sent a letter to Ronald Lauder, president of the World Jewish Congress, on Thursday, defending Figyelo magazine.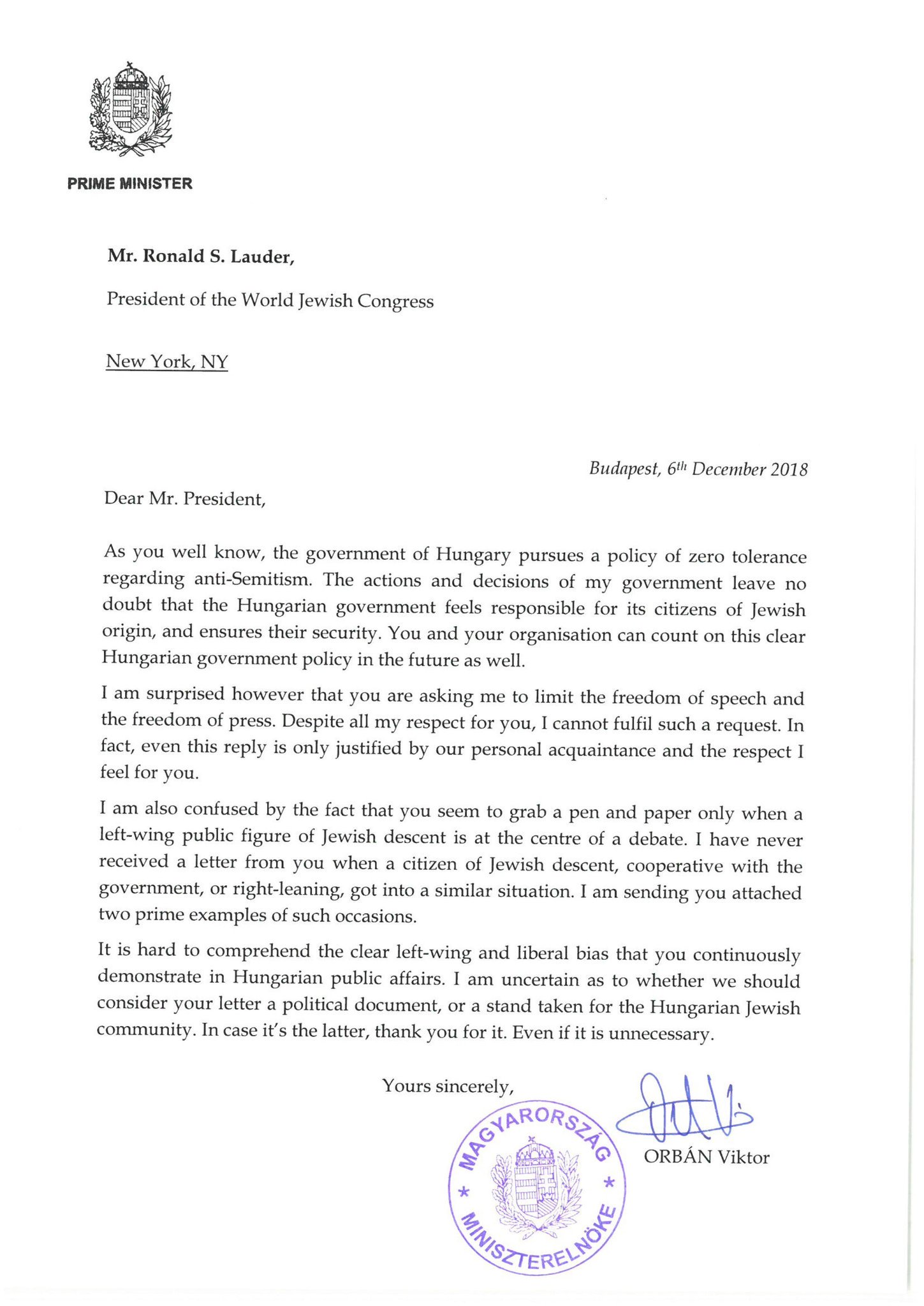 Last week, the business magazine was accused of publishing an antisemitic cover when it portrayed Andras Heisler – head of the Federation of Hungarian Jewish Communities (Mazsihisz) – amid falling Hungarian banknotes.
Orban wrote to Lauder saying his criticism is a limit on freedom of speech, Channel 10 reported.
"I am surprised however that you are asking me to limit the freedom of speech and the freedom of press," Orban wrote. "Despite all my respect for you, I cannot fulfill such a request… I am also confused by the fact that you seem to grab a pen and paper only when a left-wing public figure Jewish descent is at the centre of a debate."
In a letter last Sunday, Lauder wrote to Orban saying the image "is one of the oldest and vilest caricatures of the Jewish people and it places not just the magazine, but all of Hungary in a very bad light. The timing of this is especially critical because people in the United States, and elsewhere, are paying greater attention to the upsurge in anti-Semitism throughout Europe and, especially, in Hungary."
"While I understand and respect the boundaries of a free press, I believe your strong, public condemnation of this very clear attack on all Jewish people, would not just distance you, personally, from this most disgusting hatred, worthy of the Nazi era, but it would also place your government and all of Hungary in a better light," Lauder also wrote
Orban also accused Lauder of having a "left-wing and liberal bias" in Hungarian public affairs.
Despite being accused of antisemitism during his campaign by running anti-immigration billboards portraying billionaire Jewish Holocaust survivor George Soros, he wrote that he has a "zero tolerance" policy of antisemitism.
"As you well know, the government of Hungary pursues a policy of zero tolerance regarding anti-Semitism," he wrote.
The magazine cover was widely panned as antisemitic. Jewish Agency Chairman Isaac Herzog issued a statement, saying that his organization was "appalled by the antisemitic insinuations" made against Heisler.
"This unacceptable stereotypic smear must be rejected and fought by all persons of good will," he said.
And the American Jewish Committee issued a statement saying, "Jews with money is a familiar, disgraceful antisemitic trope."
According to the statement, "This attack on Hungary's Jewish community is shameful, especially since Prime Minister Orbán has declared a 'zero tolerance policy' on antisemitism."
Herb Keinon contributed to this report.
Political Power for European Americans!
European peoples should organize and advance our own interests just like every other group. Join our fight for Heritage and Identity!
The American Freedom Party (AFP) supports the right to keep and bear arms. Emancipate yourself from the dinosaur Democrat and Republican parties. Join a National Party that puts America first, The American Freedom Party!
Support American Freedom Party growth and our heritage of Western civilization! The American Freedom Party is the only party that addresses issues concerning European-American communities and all Americans. Send $10, $20, $50, $100, or any contribution you can or click here:

Nationalism! Not Globalism! America First! Not America Last!
Freedom from Republicans. Freedom from Democrats. American Freedom Party! Political Power for European-Americans!
European-Americans should push back! European-Americans should abandon the Republicans and Democrats. Change your party allegiance to the American Freedom Party. A Nationalist Party that shares the customs and heritage of the European American people. We need a Nationalist Party interested in defending our borders, preserving our language and promoting our culture. The American Freedom Party is not beholden to foreign governments, special interest groups, nor Wall Street. The American Freedom Party is for America First!

Category: American Voice, Establishment News