In a report by Breitbart News, "Several students at the University of Wisconsin-Madison admit that Muslims should not be forced by law to do business with Christians. Those same students, however, had a hard time agreeing that Christians or conservative Americans have the right to decline work that conflicts with their conscience or religion.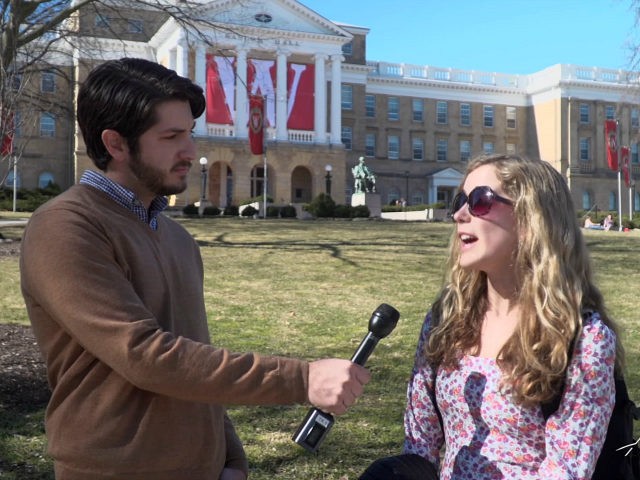 In a viral video published by Arizona-based nonprofit Alliance Defending Freedom (ADL), students were asked if they support Sophie Theallet's decision not to dress Melania Trump.
Several students agreed that Theallet — one of many fashion designers declining to dress the first family — has every right to refuse to dress Mrs. Trump.
The students were also asked if a Muslim singer solicited by a Christian church to sing had a right to refuse.
Again, the students agreed that the Muslim singer has a right to not sing in a Christian church.
"Yeah, if that goes against your religious view, I feel you have a right to turn that down," one student said.
The students also said that a law forcing Muslims to sing inside a Christian church should not exist.
When asked if a Christian photographer should be allowed by law to decline to shoot a same-sex wedding, the students appeared torn.
"For them," the ADL notes, "it seems that the freedom to live and work according to your beliefs really depends on what you believe."
Incidentally, Wisconsin resident Amy Lawson, a blogger and owner of Amy Lynn Photography, is challenging a state law forcing her to take photographs for a same-sex marriage.
Watch the full ADL video below:
Political Power for European Americans!
European peoples should organize and advance our own interests just like every other group. Join our fight for Heritage and Identity!
The American Freedom Party needs your help! Send $10, $20, $50, $100, or any contribution you can via PayPal "Send Money" to treasurer@american3rdposition.com or click here:


The American Freedom Party (AFP) supports the right to keep and bear arms. Emancipate yourself from the dinosaur Democrat and Republican parties. Join a National Party that puts America first, The American Freedom Party!

Support American Freedom Party growth and our heritage of Western civilization! The American Freedom Party is the only party that addresses issues concerning European-American communities and all Americans.

Nationalism! Not Globalism! — America First! Not America Last!
Freedom from Republicans. Freedom from Democrats. American Freedom Party! Political Power for European-Americans!
European-Americans should push back! European-Americans should abandon the Republicans and Democrats. Change your party allegiance to the American Freedom Party. A Nationalist Party that shares the customs and heritage of the European American people. We need a Nationalist Party interested in defending our borders, preserving our language and promoting our culture. The American Freedom Party is not beholden to foreign governments, special interest groups, nor Wall Street. The American Freedom Party is for America First!
---

Category: American Voice, Establishment News